Images of Gordon's Life
---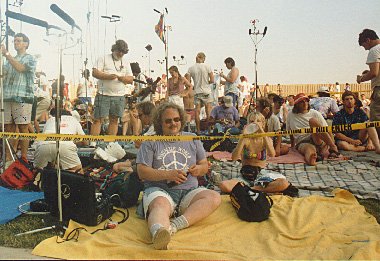 Gordon at a Dead show with his Nakamichi mikes.
---
Gordon's friend, another Doug, sent the following remembrance in email on July 24th. Doug has volunteered to serve as custodian of Gordon's fabulous Dead tape collection, spinning blanks for newcomers. More on this later. Here is Doug's remembrance:
The last time I spoke with Gordon was probably three weeks ago, he was telling me how busy he was with the business and how it was wonderful to work for your own company (as I do). We had been out of touch for a little while, so it was great to hear he was happy being back on the East coast, and working with his brother.

I only met Gordon in 1992, waiting in line for Grateful Dead tix in Hampton VA. Instantly I recognized him for the intelligent, gentle, and interesting person he was! From then on we kept in touch via Dead shows and mostly Dead tapes.

I learned a lot from trading tapes with Gordon..He was very generous when he didn't have to be. He showed me the power of being kind to strangers, no matter if they were younger or older. Because he was so willing to help me start a good tape collection, I went out of my way to share my copies of his tapes with as many beginners as possible. He made a lot of people happy, wether he knew it or not. I spent a good portion of my evening yesterday calling Deadhead friends telling them about Gordon, the guy who recorded a lot of their tapes. They all send their love, as I do, to you folks.

I will miss Gordon as you will, but feel great having known him at all! I wish you all the best in the future and would love to hear how the service went. Peace, Doug
---
Click on photo, or use your browser's "back" button.