Images of Gordon's Life
---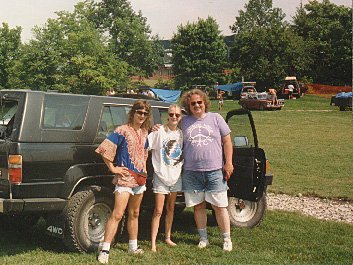 Gordon at a Dead show with Doug McDuff and friend. T-shirt designed by Gordon!
---
At a celebratory wake held at Gordon's house the day of the funeral, July 26, 1997, Doug wrote this tribute:
In Memory of my Dear Brother, Gordy Hake

Gordy was an individual who certainly made many people smile with his wonderful charm and humble heart.

I met Gordon in Wisconsin in 1988, and from there on out had wonderful times and conversations with him. Our times together at Grateful Dead shows, and when I most recently came out to visit him in the winter of 1997, will always be treasured by me. The two of us have a lot in common: scouts; musical tastes; Kansas City background; etc. But what always was a blessing was how compassionate he always was.

Gordy and I shared about the love of God, and how important it is to have faith in our lives, and serve Jesus Christ. Because of this sharing for several years, I'm totally reassured that Gordy has gone home to be with the Lord, our wonderful creator! I look forward to one day meeting up with him and laughing with him again.

We all love you, brother, and may your joy and fond memories live on with us all forever. --Your brother from the road and always with our savior Jesus Christ, Douglas McDuff
---
Click on photo, or use your browser's "back" button.