Images of Gordon's Life
---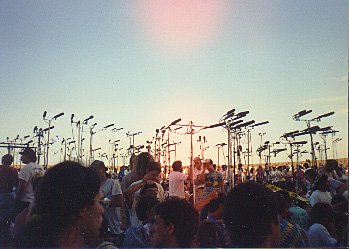 Tapers' zone at a Dead show, July 1991.
This was Gordon's favorite thing in the world.
---
On September 9, 1997, the following email was received in
Gordon's email box from a visitor to his memorial Web site
for Jerry Garcia (http://hake.com/gordon/garcia.html). Gordon's
memorial for Jerry is still very popular. It was the first Web site
memorial to Jerry put up in the whole world, was pictured in a photo
in People Magazine, and won lots of awards and praise. We add the
following representative email here, because of the appreciation it shows
for a work of beauty that Gordon created, and also because it chokes us up
for its relevance to Gordon as well:
I just found this page and think that it is pretty cool. On August 9 1995 I was on vacation with my family in Quetico Provincial Park just north of the Minnesota Canada border. Roughly a week and half after he died we came out of the park as though nothing had changed since we went in. One of the people that we took with us called her mom who promptly informed her that "some Jerry Garcia guy had died." Of course we all laughed it off. Jerry couldn't of died, he was to important to so many people. After coming to the realization that this was for real I just lost control. I had just seen him a month before at Soldier Field. "He can't die..." I told myself. He just couldn't of. There had to be a mistake. But in the bigger picture there was no other reality except he had. To this day I have not gotten over his death I don't know if I ever will.

I don't know if I want to. He changed my life and the life of many of my friends including my parents.

It's like the song says.

"the story teller makes no choice, soon you will not hear his voice."

But within another song there is comfort.

"sleep in the stars, don't you cry, dry your eyes on the wind, la la la laa."

And still yet my life will not fade away.

--joe.
---
And here is one more note from Gordon's email mailbox, sent in
late July by Sam Mann. Sam is a terrific guitarist, and at the
celebratory wake at Gordon's house on July 26, he led the crowd in
rousing Dead tunes for a wonderful hour. Thanks, Sam!
By the time you receive this you will be standing on the moon...a lovely view of heaven. What to say, what to do...all we can do in this medium is write, no feelings, no emotion, no tears, just words. Of course, I had intended to e-mail you sooner, I always thought I would get around to it. Typical. YOU WILL NEVER ESCAPE MY MEMORY, FRIEND!!!!!! Nothin left to do but smile smile smile. Love, Sam.
---
Click on photo, or use your browser's "back" button.