Images of Gordon's Life
---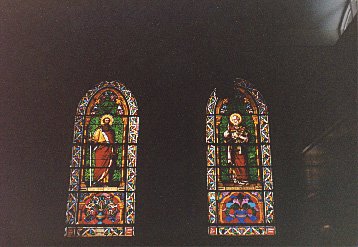 Photo by Gordon of church windows, somewhere in the American West.
At Christmas 1990, Gordon set off alone on a car trip across the West, going
all the way to California. At the Grand Canyon, he had a religious awakening,
and dedicated his life to helping others. He came back with many photos with
religious themes, and Native American themes. Back in Richmond, he tried hard for
many months to find employment in a charitable organization, but doors were closed.
Thus, he ended up working for Day Dream Publications, first in Richmond and later
in Indianapolis. Day Dream was definitely not a charitable organization. After Gordon
left Day Dream in 1995, he moved to Maryland to found Hake Internet Projects with
Bruce and Judy. That little company is dedicated to good works, and any good works
it will ever accomplish will be in memory of Gordon.
---
Click on photo, or use your browser's "back" button.